August 2023: Letter from the Director
Fall Events & Future Plans
I'm honored to address you today as the new director of the Robert Mondavi Institute. If you missed the announcement, let me share my vision for the institute and background.
My main goal is to build on the great history of the Robert Mondavi Institute and the success my predecessor, Andrew Waterhouse, by bringing people together to celebrate the joy of food and wine and to highlight different voices and perspectives from across the wine and food communities. I'm grateful for his support and guidance as I take on this new role.
I joined UC Davis 12 years ago to help establish the Center for Water-Energy Efficiency, a research center focusing on securing water and energy resource savings in collaboration with utility partners. I then joined the Department of Food Science and Technology faculty in 2015 to explore the relationships between food and the environment and continue in this capacity as an associate professor. I'm also the faculty advisor for the Food Loss and Waste Collaborative and serve on the board of the Yolo Food Bank. Since I've been working on food sustainability and security for many years, I'll pursue activities on these topics that will be exciting and spur meaningful conversations.
We are currently finalizing our fall programs, starting with Forum - Farm to Kitchen: Making Foods Safe on October 12. Please join this virtual lecture to learn about the critical role of food science professors of Cooperative Extension, who support food safety through classes, research, and resources for large industry partners to small homemade food producers.
Our annual food and wine tasting fundraiser, TASTE, returns on October 14. We'll update the food and beverage vendors soon, and tickets will go on sale next month. When you receive the on-sale announcement email, please act fast. Last year, tickets sold out within one week!
In partnership with the UC Davis Library, RMI will host Savor - Brewing Change: Craft Sake in the U.S. on November 8. We'll explore the evolution of an ancient beverage with Den Sake Brewing, Umami Mart and Sun Valley Rice. Registration will open next week with an in-person and virtual option.
Please join us at one (or all!) of our upcoming events, and I look forward to connecting with you.
Sincerely,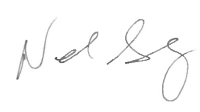 Ned Spang
Director, Robert Mondavi Institute for Wine and Food Science
Associate Professor, Department of Food Science and Technology
Primary Category
Secondary Categories