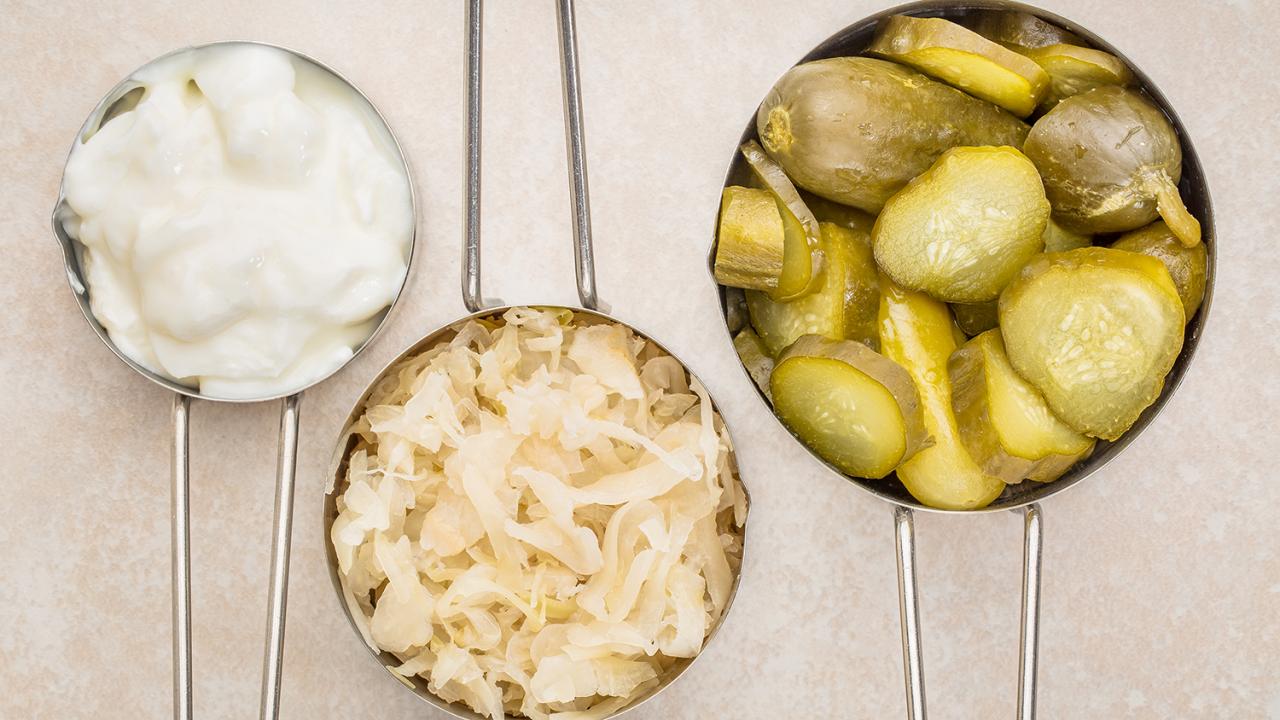 Location
Robert Mondavi Institute Sensory Building
Surprising Superfoods: The Science of Fermented Foods
Fermented foods like pickles and sauerkraut were some of the first processed foods consumed by humans. They were prized for their enhanced shelf lives, but their value doesn't stop there. Once fermented, pickles and sauerkraut have health benefits that far surpass those of cucumbers and cabbage. This joint lecture will address the science and importance of fermented foods, from the ecology and metabolism of the microorganisms that create them, to the business of pickle making and the value of academic-industry partnerships.
Schedule:
5:00-5:30 p.m. Public Reception
5:30-6:30 p.m. Surprising Superfoods: The Science of Fermented Foods
Speakers:
Professor Maria Marco received her BS degree in microbiology from the Pennsylvania State University, PhD from the University of California, Berkeley, and worked as a lead scientist at NIZO food research, The Netherlands. She has an internationally recognized research program on lactic acid bacteria and the ecology of food and gut microbiota. This research has received over 10 million dollars in research support from federal, state, foundational, and international agencies. Prof. Marco has mentored over 100 students, postdocs, and visiting scientists in her lab. She has over 70 publications in refereed journals and numerous patents as well as is a founder of a start-up company on microbial detection. She received an American Society for Microbiology Distinguished Lecturer award and serves on numerous advisory and editorial boards.
David Ehreth studied electronic engineering at Cal Poly, San Luis Obispo, and began a 30-year career in telecommunications at Digital Telephone Systems in 1977. He helped create two more telecom companies, Optilink and Westwave Communications where he was VP of Engineering, General Manager, Founder and CEO. In 2004, David started the Alexander Valley Gourmet brand of fresh, live culture pickles and sauerkraut that later became Sonoma Brinery. A pioneer of the fermented and live-culture pickle, Healdsburg, Calif.-based Sonoma Brinery today has 30 employees and sells natural and fermented products to over 1,500 stores around the country.
Price:
General Public: $10.00

Students: $5.00/ID required (use code

YAOXYVKNMP

)
About:
Forum: Talks on Food & Wine Sciences, hosted by the Robert Mondavi Institute, will cover an array of research and scientific advancements in the disciplines of wine, brewing and food sciences, as well as discuss the importance of UC Davis research to the food and beverage industry
Venue:
Robert Mondavi Institute Sensory Building
392 Old Davis Road
Davis, CA 95616
Parking: $9