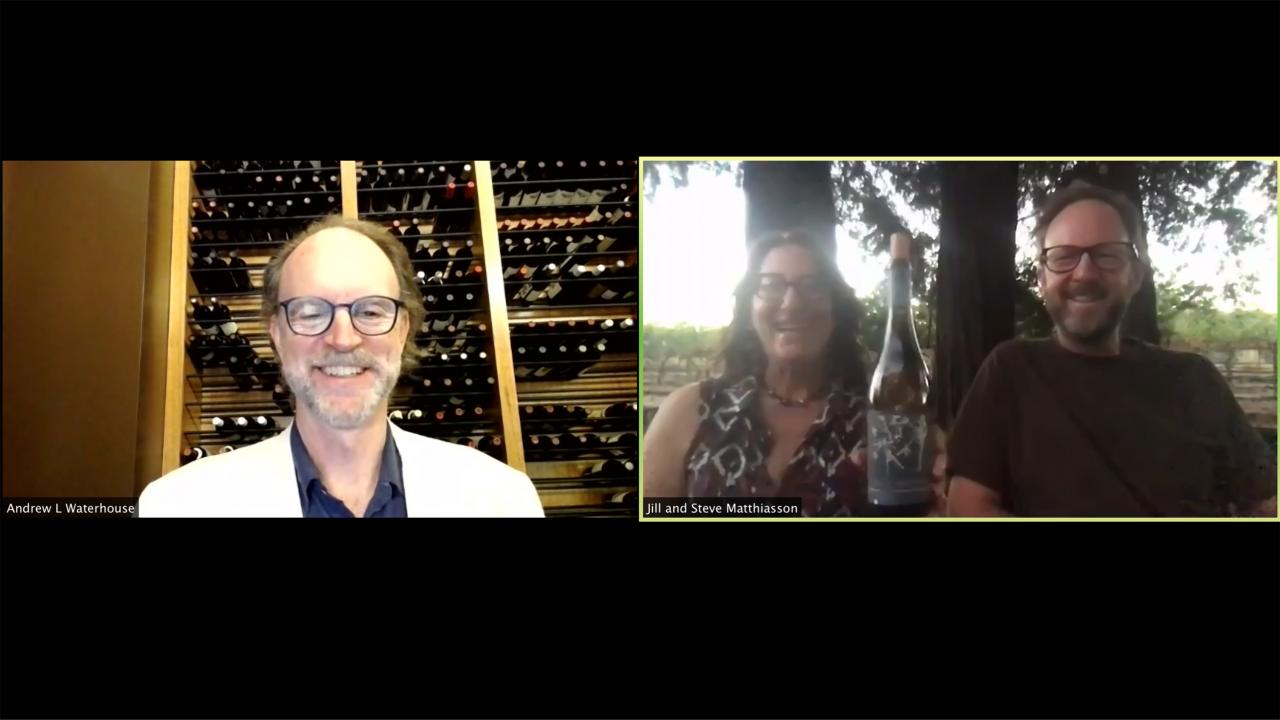 The event:
In the crowded landscape of Napa Valley wineries, Steve and Jill Klein Matthiasson have carved out a unique place for sustainably-produced wines. With six James Beard Award nominations, a "Winemaker of the Year" title awarded to him by the San Francisco Chronicle, and wines praised by the New York Times as "[bearing] an agricultural stamp, as fresh, lively and alive as the best produce from a farmers' market," Steve Matthiasson is, to many, a winemaker's winemaker. Their conversation was an inside look at how one of Napa's most celebrated and innovative wineries is changing how we make—and taste—wine. 
Speakers:
Steve Matthiasson is the owner of Matthiasson Wines. He has been named Winemaker of the Year by both Food and Wine Magazine and the San Francisco Chronicle, and is a co-author of the California Code of Sustainable Winegrowing. He is a sought-after viticultural consultant, and has worked with Araujo, Dalla Valle, Spottswoode, David Arthur, Chappellet, and Stag's Leap Wine Cellars.
Jill Klein Matthiasson studied botany at the University of Pennsylvania, researched ancient farming techniques in Israel, and studied traditional methods for soil health in graduate school at UC Davis. She pioneered "farmer to farmer" networking for sustainability in the early 90s while working for a family farming non-profit, and ran programs training farmers on direct sales. She has taught cooking-from-the-garden classes in local grade schools, and served on the Napa Farmer's Market board. She runs the business side of the family farming and wine business.
Moderator Andrew Waterhouse is a professor in the UC Davis Department of Viticulture and Enology, and has previously held the John E. Kinsella Chair in Food, Nutrition, and Health, and the Marvin Sands Endowed Chair in Viticulture and Enology. He has won a UC Davis Chancellor's Fellow award, holds an honorary doctorate from the University of Bordeaux, and he has been named one of the most highly cited researchers in agriculture by ISI. In 2018, he was named the director of the Robert Mondavi Institute.
The winery:
Started in 2003, Matthiasson Wines today makes moderate-alcohol wines that are classical expressions of well-known grape varieties like Chardonnay and Cabernet Sauvignon, and rarer ones like Ribolla Gialla and Refosco. For this Sips and Bites, we tasted Matthiasson Wines' 2016 Napa Valley Cabernet Sauvignon, 2018 Chardonnay, and 2018 Ribolla Gialla.
About:
This event is part of the Sips and Bites series, which explores the stories behind foods and drinks with winemakers, brewers, and culinary innovators with tastings and conversations about what inspires them to make their wines, beers, and foods.