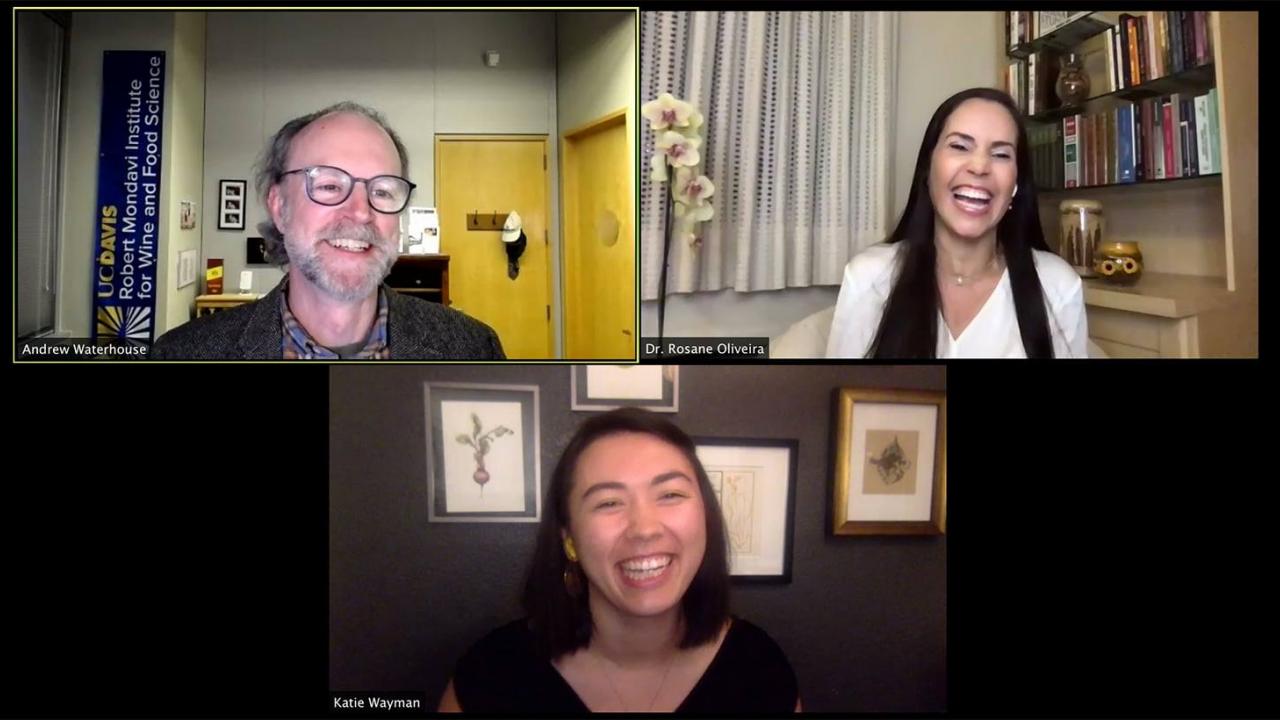 The event:
Bread is one of mankind's oldest sources of nourishment, but what makes some loaves so healthy? Rosane Oliveira, founding director of the UC Davis Integrative Medicine program and a leading expert on food and nutrition joined UC Davis Alumna and baker Katie Wayman for an in-depth look at what makes some breads so good for us, and how to bake a nutritious loaf yourself.
Speakers:
Rosane Oliveira, D.V.M., Ph.D. is Founding Director of UC Davis Integrative Medicine and Adjunct Assistant Professor at the Department of Public Health Sciences at the UC Davis School of Medicine. Blending a life-long passion for food and nutrition with over 20 years of scientific experience in genetic research, Oliveira is devoted to educating people about how food and lifestyle choices can affect genetic expression–i.e. how genes are turned on and off and either cause disease or promote health. She is a native of Rio de Janeiro, Brazil and has lived in the US since 2003.
Katie Wayman is an alumna of the UC Davis Department of Viticulture and Enology. As an undergraduate, she received the Department of Viticulture and Enology International Fellowship that enabled her to spend a harvest at Zelma Long's Vilafonte in South Africa. In 2019, after spending five years in production winemaking at several wineries across the globe, including Harlan Estate in the Napa Valley, and Yarra Yering in Australia's Yarra Valley, and baking countless loaves of bread at home, she chose to apply her knowledge of fermentation in a new direction by baking bread for both Tartine in San Francisco and Base Camp Bakery based in Oakland. She now works full time with Chase Agee at Base Camp Bakery.
Moderator Andrew Waterhouse is a professor in the UC Davis Department of Viticulture and Enology, and has previously held the John E. Kinsella Chair in Food, Nutrition, and Health, and the Marvin Sands Endowed Chair in Viticulture and Enology. He has won a UC Davis Chancellor's Fellow award, holds an honorary doctorate from the University of Bordeaux, and he has been named one of the most highly cited researchers in agriculture by ISI. In 2018, he was named the director of the Robert Mondavi Institute. 
Bake the bread at home:
Watch the video below for Katie Wayman's step-by-step guide, and follow the recipe she uses to make Base Camp Bakery's Country Style Loaf. Here's a list of great mills for flour.

About:
This event is part of the Sips and Bites series, which explores the stories behind foods and drinks with winemakers, brewers, and culinary innovators with tastings and conversations about what inspires them to make their wines, beers, and foods.