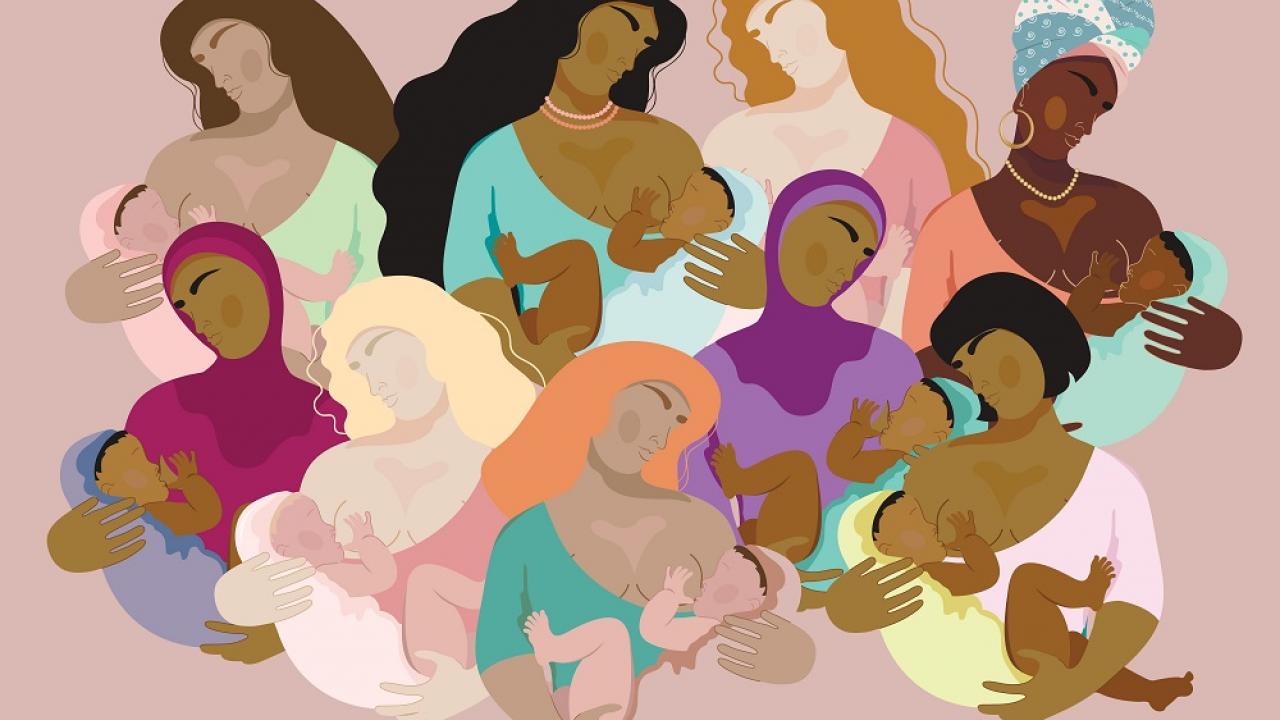 About the Event
On October 27, 2021, Bruce German, Katie Hinde, and Jennifer Smilowitz joined us for a fast-paced and fascinating presentation on breast milk.
Breast milk, the original "superfood," not only nourishes babies directly; it also feeds friendly gut microbes that support digestion, immune system development, and long-term health. Yet, research has found that infants in industrialized nations have lower levels of a key organism that helps establish a healthy microbiome. Learn how this amazing biological system works and how an interdisciplinary research team at UC Davis is using a probiotic to improve infant health.
More Stories About Milk:
UC Davis Library has created an online exhibit with an array of popular media and scholarly articles related to milk. Many of the articles have been authored or co-authored by our speakers. Explore the exhibit to delve deeper into the amazing world of milk.
 
Check out SPLASH! milk science update, a bi-monthly publication about milk and lactation written for popular audiences and led by principal investigator UC Davis Professor Carl Whithaus.
Speaker Biographies:

Bruce German's research seeks to understand the role of food and certain food ingredients in delivering improved health. His lab investigates questions such as how milk and lactation evolved to promote health, growth, strength, and ultimately, survival. He is professor of food chemistry and director of the Foods for Health Institute at UC Davis, and co-founder of Evolve Biosystems, which develops products that support a healthy gut microbiome.

Katie Hinde is a scientist, writer, and advocate who explores how mother's milk influences infant development. She is co-author of the book Building Babies and founder of the science blog "Mammals Suck...Milk!" Her TED talk "What We Don't Know About Mother's Milk" has received nearly 1.5 million views. She is on the faculty of the School of Human Evolution and Social Change and director of the Comparative Lactation Lab at Arizona State University.

Moderator Jennifer Smilowitz studies lactation, milk science, and the gut microbiome across all stages of life. Her research points to the first 2000 days — from pre-pregnancy through a child's second birthday — as a critical period in which nutrition has long-lasting consequences for an individual's health and potential. She is a faculty affiliate in the UC Davis Department of Food Science and Technology and associate director of human studies research for the Foods for Health Institute. 
About:
Savor: Lectures on Food and Wine hosts thought leaders, entrepreneurs, policymakers, and scientific experts for evenings of illuminating discussion on some of the biggest topics in food and wine being studied at UC Davis today. The Robert Mondavi Institute and UC Davis Library have embarked on this partnership to advance our shared commitment to supporting scholarship about food and wine, at UC Davis and beyond.
Venue:
Savor: Our First Superfood and the Infant Microbiome will be presented via Zoom.