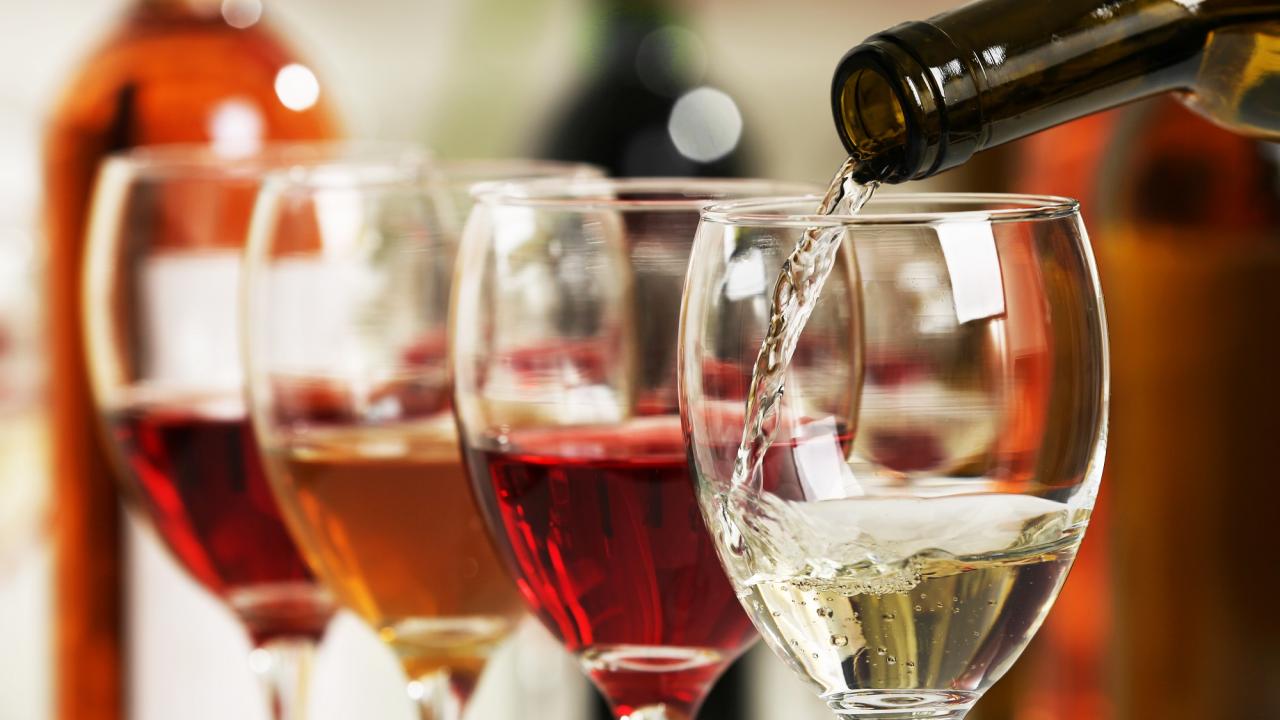 On April 13, 2022, we offered a rare opportunity to taste experimental wines with industry experts. As a graduate researcher, Dr. James Campbell produced two wines that illustrate naturally occurring pigments' effect on tannins. He joined Dr. Andrew Waterhouse and Madeline Puckette, co-founder of Wine Folly, to discuss the research project, followed by a guided tasting.
Tasting:
Attendees will taste and compare the following wines:
UC Davis Experimental Skin Fermented Sauvignon Blanc 2019

UC Davis Experimental Skin Fermented Sauvignon Blanc with Grape Pigments 2019

Navarro Vineyards Blanc de Noir 2020

Navarro Vineyards Pinot Noir 2019

Three by Wade Cellars Chenin Blanc 2020*
Three by Wade Cellars Sauvignon 2020*


*Wade Cellars wines are provided by Dwyane Wade, the "newest member of the UC Davis Viticulture and Enology Department Executive Leadership Board," and his team at the winery. 
Tasting kit:
Purchase of the tasting kit is separate; a link will be provided in your registration confirmation email. 

The tasting kit is $70 and there is limited availability.

Each wine sample is 6 oz and provides two generous tastes.

Last day for ground shipping: April 5 for East Coast, April 8 for West Coast.

Cannot ship to the following states: AL, DE, KY, MS, RI, SD, UT.
Speakers:

Madeline Puckette is the Chief Design Officer at Folly Enterprises which operates Wine Folly – a wine education and media brand she cofounded in 2011. After its inception, Wine Folly went on to win Wine Blog of the Year in 2013 (IWSC) and now hosts more than 15 million unique visitors a year. Puckette's work with Wine Folly includes creating two books (a New York Times bestseller and a James Beard Award winner), a portfolio of wine education tools, and over one thousand articles on the topic of wine.

Dr. James Campbell was accepted into the Agricultural and Environmental Chemistry program at University of California, Davis to pursue a Ph.D. in 2016, which he recently completed. The focus of his studies under Dr. Andrew Waterhouse were on changes in tannin over the course of grape ripening and how the changes were impacted by the production and interactions with anthocyanins. Currently, he is continuing to work on the kinetics of pigmented tannin formation as well as a reevaluation of the Winkler Index in the context of climate change with Dr. Elisabeth Forrestel.

Moderator Andrew Waterhouse is a professor in the UC Davis Department of Viticulture and Enology and has previously held the John E. Kinsella Chair in Food, Nutrition, and Health, and the Marvin Sands Endowed Chair in Viticulture and Enology. He has won a UC Davis Chancellor's Fellow award, holds an honorary doctorate from the University of Bordeaux, and has been named one of the most highly cited researchers in agriculture by ISI. In 2018, he was named the director of the Robert Mondavi Institute.
---
About:
This event is part of the Sips and Bites series, which explores the stories behind foods and drinks with winemakers, brewers, and culinary innovators with tastings and conversations about what inspires them to make their wines, beers, and foods. 
Venue:
This is a virtual event that will be presented via Zoom. In order to access this webinar, you will need a free Zoom account, which you can sign up for here.
Questions?
If you have questions about this event, please email: rmievents@ucdavis.edu.